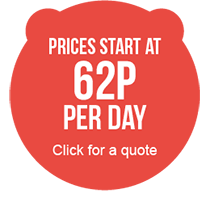 In-Home Lifeline System
Having a TED Alert In-Home Lifeline system will give you and your loved ones peace of mind.
Our innovative system comprises of a base unit and a push-button pendant alarm, so that help is never far away.
Should you suffer a fall or begin to feel unwell, all you'd have to do is press the button on your care alarm pendant. Help will be on hand immediately as we connect you to our friendly customer services team, who will help you deal with the situation directly.
You can utilise the SOS pendant in several ways:
On a cord around your neck
Around your wrist like a watch
Keep it in your pocket.
As long as the button remains within reach, then it's up to you how you wear it!
Best of all, our TED Alert In-home system can connect to multiple pendants – giving all users peace of mind, secure in the knowledge that we have your back!
Setting up
The unit itself is very straightforward to install and can be easily set up by the user or friends and family. However, dependant on the area, we can send out an engineer to install the unit for you.
Once you've signed up to this service, you'll receive a start-up pack. However, here's a few steps to give you an idea of the simplicity of getting set up and ready for independence:
Step one: Plug your In-home Lifeline System into an existing telephone socket.
Step two: Plug your telephone into the unit with the adapter provided.
Step three: Plug your lifeline system into a power socket.
Step four: To test the unit, you'll need to press the red button.
Step five: Our test team will be aware that this is a test and respond accordingly over the loudspeaker. They will take you through the test sequence and let you know when everything is set up.
Once you've been signed off by our customer service team, you'll need to make sure you test your In-home Lifeline System once a month.
Features
Large illuminated alarm call button
Up to 32 telecare devices can be connected
Can be programmed using an on-board keypad
Loudspeaker features high-quality digital speech
Voice reassurance messages
Front panel status lights
Integrated backup battery in the event of a power outage
Horizontal, vertical and wall-mounted installation options